Every time you join a Chathouse 3D session you will find a panel with many functions. You can hide it by clicking on the X icon on the upper right corner and show it by clicking on the squared icon in the same place when the panel is hidden. As an alternative you can also press "TAB".
---
---
Previous Page: Lets you go backwards in the menu/undoes the last action.
Next Page: Advance in the menu/redo the last action.
 Camera Control Panel: Lets you configure how the camera performs, set the screenshot options, enables/ disables some character animations, sets the mouse behavior and has also some Editor/ Oculus settings.
 Chat Session Panel: Lets you invite friends into the session, activate voice over ip and some voyeur settings.
Emotes & Gestures: From this panel you can activate Facial Expressions, Gestures and Dance moves.
Poses: This is the menu where you can find all available poses and some related settings.
Customization: This section allows you to customize your Chathouse character in game or your location in Room Editor.
Settings: This category includes game sounds, room editor settings and interface configurations.
Connect to another randomly chosen server: Throws you into a random session.
Return to Character Selection: Brings you back to the Lobby.
Hide Browser (hides this menu).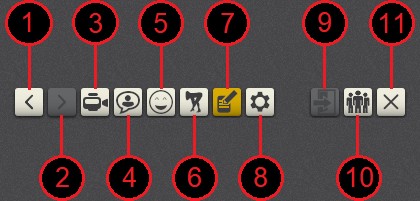 ---
When you close the tab you got two additional icons in
the upper right corner.
12. Opens the Game Browser.
13. Opens the ingame store.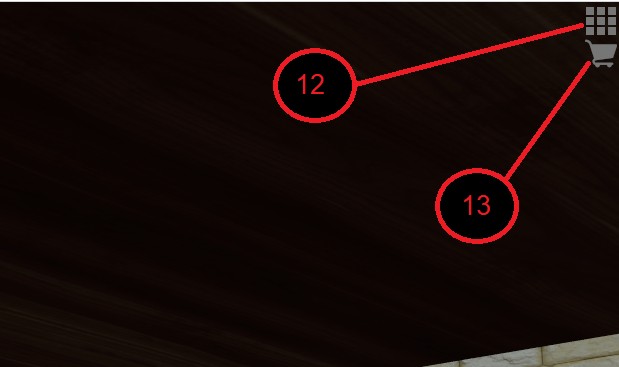 ---
Chatbox:
Session Chat.
General Chat.
Player information bar.
Stretches the chatbox.
Adds a chat partner/ chatroom or sets AFK status.
The new chatpartner icon will be placed alongside the General Chat box.
Shows the user name and the time. When hovering your cursor on it, you will be displayed the date too.
Click to send your message.
Opens the emojibox. Only available to premium users.
Chat input field.
Tip: Type "/help" into it and it will show you the chat commands.
This icon represents the players in chat.
By clicking on it, a little window with the following functions pops up:
Community: Leads you to players Xstream page.
Send friend request: Asks the user to join your friendslist.
Send PM: Opens a Personal Message tab in the chat.
Ignore user: Ignores the user and places him onto the ignore list. All messages from this user will not be displayed.
Kick user: Kicks the user out of the current session. (Only available to room owners.)
Chat panel: displays all the messages.