---
If you have any questions or if you would like to report issues related to our Community or Games you can contact thriXXX in several different ways.
---

---
Moderators:
thriXXX has implemented a team of moderators who will be happy to assist you.
Moderators (Mods) ensure that Chat and Community is regulated and pleasurable by intervening in case of offensive posts, spam and other rules violations. Moderators also assist users that are experiencing issues or need explanations regarding thriXXX website and games. They are easily identified in chat by green or pink text (or the moderator sign in the chatlist).
To a Moderator you can report violations of Community Rules and issues with other Community members as well as ask questions about Games and Community features and rules. You can also chat, play and make friends with moderators just like any other user.
Moderators support does not include billing issues, software bugs and special requests and suggestions about game features and company policy. Contacting thriXXX support is the best option there.
An updated list of moderators can be found here. The Flags represent the language(s) spoken by the listed moderator.
Note: Moderators are working voluntarily and are not employees of thriXXX.
---
thriXXX Staff:
Administrators are employees of thriXXX working in different divisions.
A complete list of administrators can be found here. The Flags represent the language(s) spoken by the listed administrator. Their specific field of expertise is also listed, so you know who your best choice for your specific issue can be.
They are easily identified in chat by blue text.
Note: Administrators are constantly improving, fixing issues and adding features to our favorite Community and Games. Depending on their level of involvement in current projects, a response to your contact may take a long time or you may even not receive any.
Please be aware that you should use the official functions to contact the support team, as described below.
---
Report Button:
Reporting a post on X-Streams is easily performed by clicking the "REPORT" button. This is the best way to inform our staff about forbidden or inappropriate posts (for example: minors, harassment, nazism…).
You can report posts that are published on any XStream and by anyone.
---
There are two ways to contact thriXXX Support.
Submit a ticket (for general issues):
You can submit a ticket through our website module here.
This is the best option if you need assistance that is not related to Games performance and bugs/issues.
You can keep track of the progression of your reports and tickets from HERE!
Report using the launcher (for game related issues):
Reporting your issues via the Launcher is the best option for Game Related Problems as the Launcher generates a LOG that is attached to your request and contains many useful informations that can help our staff identify and correct the issues you are experiencing.
---
Submitting a report using the Launcher is easy, you just need to follow these steps:
Open the thriXXX Launcher.
Click on Report (1).
Fill out all fields in the form (2) and attach any files (like screenshots…) you believe could be useful. (The more informations the better.)
You can keep track of the progression of your reports and tickets from HERE!
---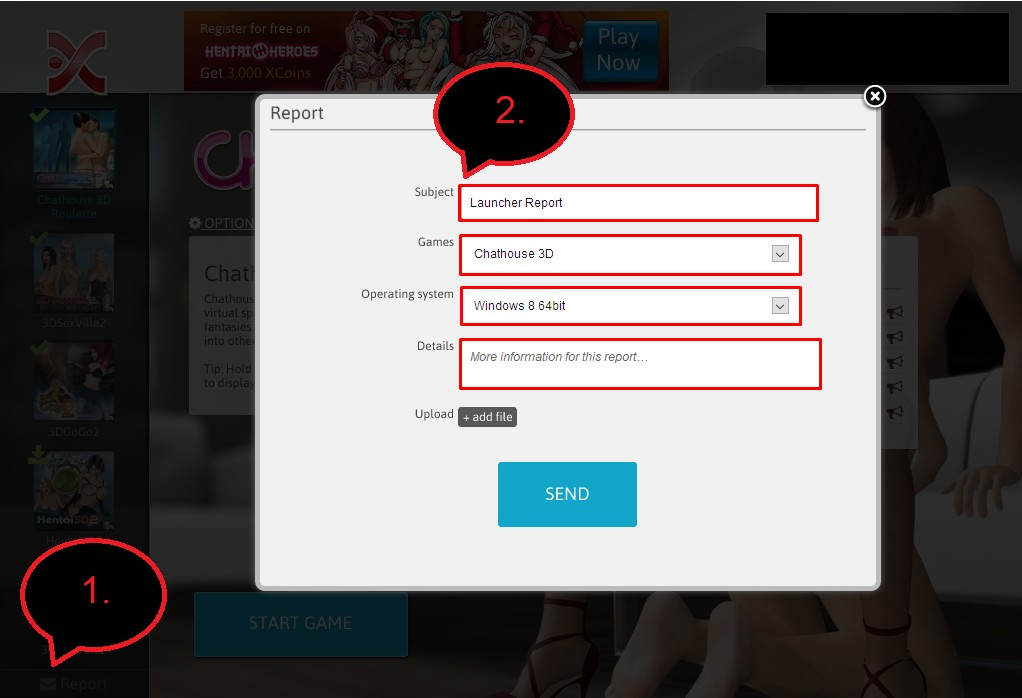 ---