Introduction
First of all, each person comes with a single track for an animated toy. That means that 3 toys at max may get included in a pose setup!
Only insertable toys are available for animating. At the time of writing, also Paddle and Whip were made insertable, thus also animatable!
How to enable Toys for Animations
Each toy must be connected to a zone. It's as simple as connecting a Penis to a Vagina:
Within the Panel on the left side, scroll down to the Extra section and click the Chain icon on the right of the Free Toy line.
A window will pop up, showing all the zones that are available to connect, these include Vagina (female only), Anus, Mouth and Free. 
Clicking on one of the zones, will bind the toy to the zone and bring up a generic toy mesh as default.
Each Persons default tool has the same color as the keys in the timeline, red for person 1, green for person 2 and blue for person 3:
By default the toy will show up lying on the floor, but by holding down the SHIFT key when connecting to Vagina, Anus or Mouth, the tool will automatically be positioned at the zones current position.
Important: if the toy gets connected to vagina/anus/mouth, the zones must not be dressed, otherwise the toy is not visible due to internal tool blocking mechanisms.
How to change the default Toy to something else
The default toy may get changed either to an internal or a user made one. This makes it possible to create animations specifically designed for a toy.
To change it, click on the chain icon mentioned above, a window will pop up giving you a new menu entry called Change Toy.
This menu includes all toys that are currently available! Keep in mind, that a toy may only used once in a setup. So if you use, e.g. a the Penis Dildo in an animation, there will only be one person having this toy!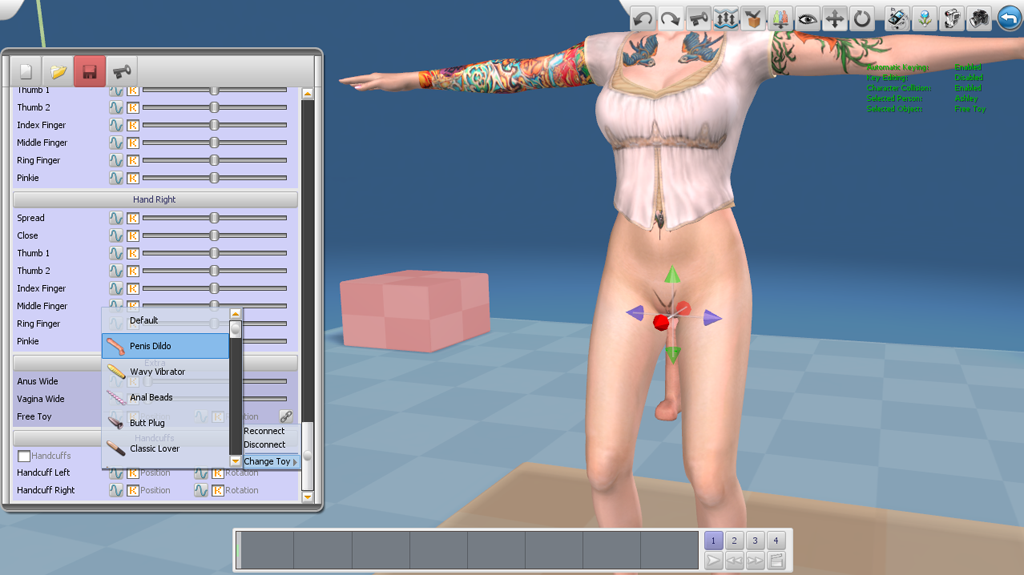 The Free Zone
To animate items that are not meant to be toys, like a can or a cigarette (can be made with the Toy Editor), a special zone has been introduced: the so called Free zone.
This comes with some drawbacks, though, in combination with free-mode-like game modes. These toys will show up in the action bar panel, but will not have any influence on the orgasm meter and you can't control them interactively.
In fact, this was merely added to support sequence editors to create sequences with a bigger range of story telling possibilities.