Here you can find some information about the settings that are available for your account. Many options will let you customize important areas in your account to best fit your preferences.
---
Where are my Account Settings?
---
Enter thri.xxx website and log in.
Then click on the little cogwheel on the upper right side.
---
Here's the panel you will find and all the customization options.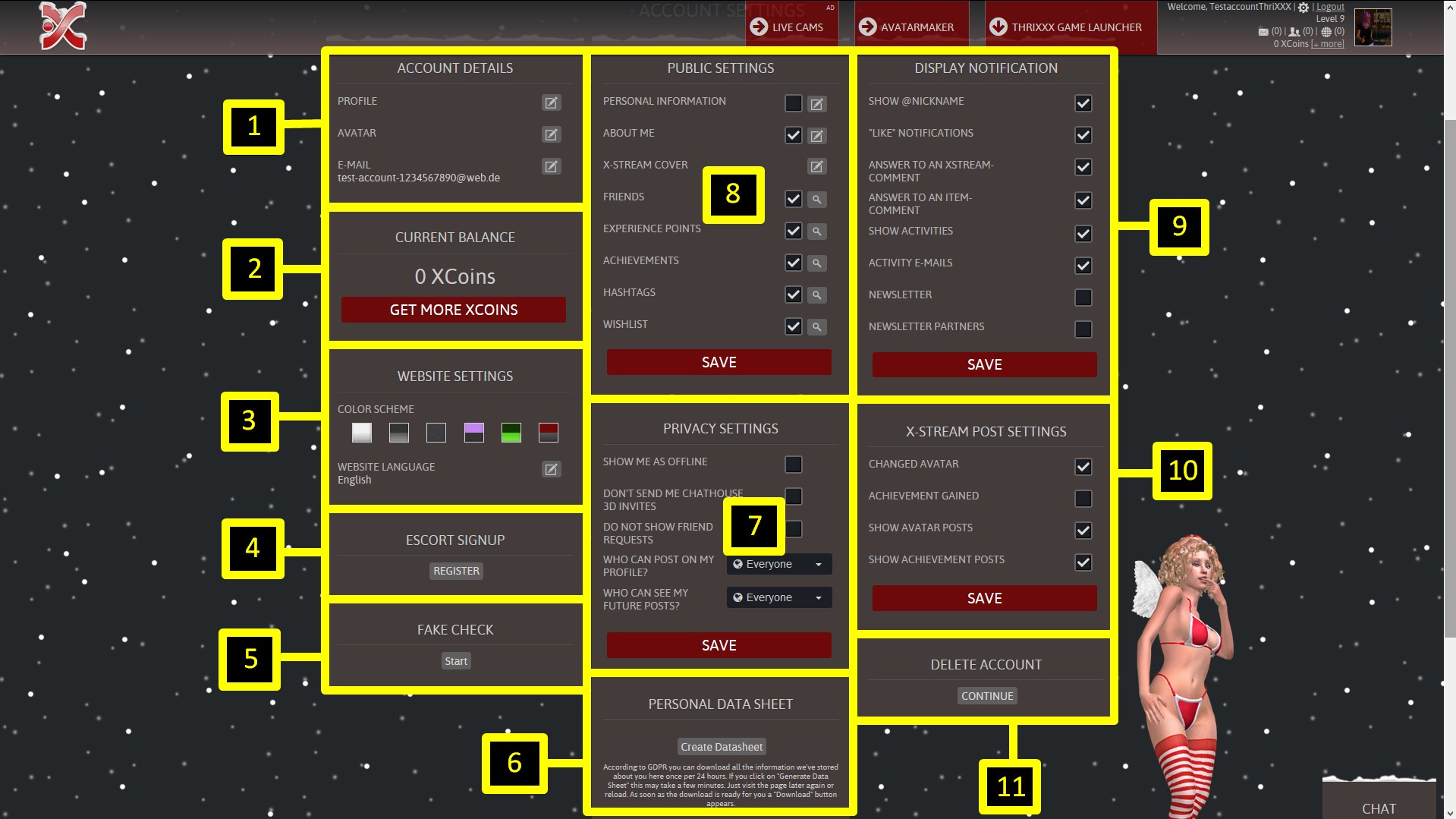 ---
1. Account Details (E-mail, Nickname, Gender, Sexual preferences, Timezone)
---
Profile:
Avatar:
Email:
You get an email to your new email address with a confirmation link (if you can't find it, please check your spam folder) -> click on the link to activate your new email address.
You ALSO get an email to your old email address with a cancellation link in case you do not want to change your email address for thriXXX anymore.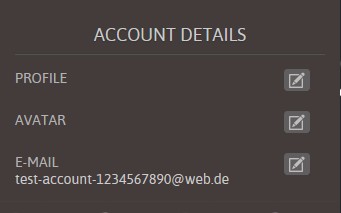 ---
2. Current Balance (Xcoins)
---
It shows your Xcoin balance. Clicking on "Get more Xcoins" redirects you to the "Buy Coins" web page.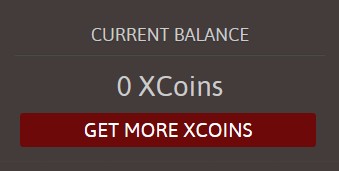 ---
3. Website Settings (Website Layout and Website/Game Language)
---
Color Scheme:
Allows you to choose between different website layouts:
Website and in-game language:
Allows you to choose between: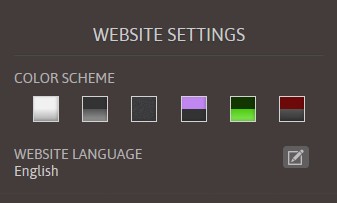 ---
4. Escort Signup
---
In Chathouse 3D you can earn Xcoins with the "Escort Mode". Once you have registered as an escort, users can invite you to an escort session and you will be rewarded money accordingly. Once registered as an escort, you will be shown all the details.
Note: You need to complete a Fake Check first!


---
5. Fake Check
---
The Fake Check gives you the option to verify your gender via video or picture. Your video/image file will not ever be made public and will be accessed only by a thriXXX employee just to verify your gender. Once you are verified a green "verified badge" will appear beside your profile picture.
This is a great opportunity to inspire trust from other users, and keep your real identity safe at the same time. Some thriXXX members play with verified users only.

---
6. Personal Data Sheet
From here you can see which information about you thriXXX is storing and download them.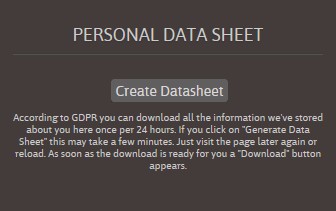 ---
7. Privacy Settings (Hides online Status, blocks Requests and Posts)
---
Show me as offline: Will show your status as "offline".
In Chathouse 3D game locations, your name will be listed as "User" in the serverlist.
It will not hide your name while you are in a game session, though.
Other users can still see your nickname when you are in the room with someone.
Don't send me Chathouse 3D Invites: Blocks all incoming Chathouse 3D invite notifications.
Do not show Friend Requests: Disables friend requests on thri.xxx website and Chathouse 3d.
Who can post on my Profile?: Allows you to restrict whom can post on your stream: only you, friends only or everybody.
Who can see my future posts?: The same principle as the option above, just applied only to future posts.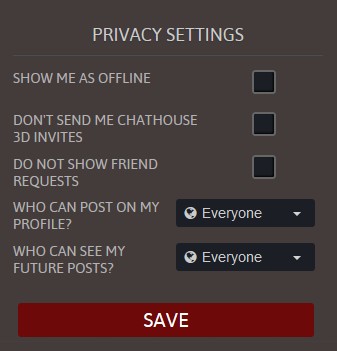 ---
8. Public Settings (Changes X-Stream Cover and shows/ hides certain things on your X-Stream)
---
Personal Information: Lets you add your hobbies, change your country and language.
You can also show/hide those information by clicking on "Show Public".
About Me: The About me is a good way to share your preferences and let people know yourself better.
Tip: Spend some time into it and other users will be more interested. Many users simply deny all friendship requests if your profile information field is not complete.
X-Stream Cover: Changes the Header picture in your X-Stream page.
Friends: Displays or hides your friend list on your X-Stream.
Experience Points: Displays or hides your experience points on your X-Stream.
Achievements: Displays or hides your achievements on your X-Stream.
Hashtags: Hides/shows your hashtags on your X-Stream.
Wishlist: Hides/shows your wishlist on your X-Stream and lets you check your current items on it.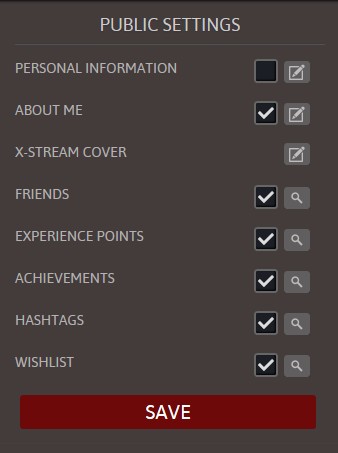 ---
9. Display Notification (Decide which notifications you will receive)
---
Show @Nickname: You can select here whether you will receive a notification if someone mentions your nickname in a post or not.
Like Notifications: You can select whether you will be notified when someone likes any of your posts.
Answer to an X-Stream comment: You receive a notification when someone comments on a post you follow.
Show Activities: You receive a notification when one of your friends log in.
Activity E-Mails: Prevents thriXXX from sending you e-mails. (

Not recommended

 since you will not receive any ticket based emails from the support anymore.)
Newsletter: Subscribe/unsubscribe to thriXXX newsletter by e-mail.
Newsletter Partners: Allows or prevents thriXXX partners from sending you their newsletter.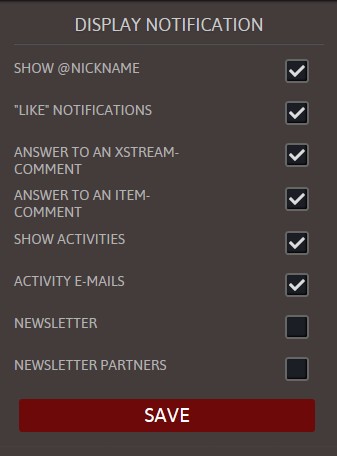 ---
10. X-Stream Post Settings
---
This will allow you to decide what type of friend activity is shown on your X-Stream. Do you want to be informed if your friends change their avatar or gain an achievement? Simply check the activities you want to follow.
Changed Avatar: Posts on your X-Stream when a friend changes their avatar.
Achievement Gained: Posts on your X-Stream page when a friend reaches a new achievement.
Show Avatar Posts: Posts on your X-Stream page when a friend changes avatar.
Show Achievement Points: Show/hides achievement posts on friends X-Stream pages.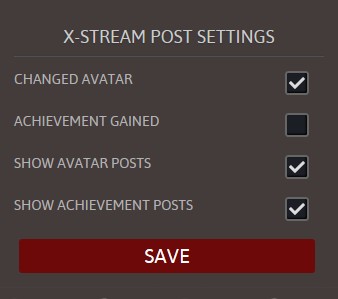 ---
11. Delete Account