In the Settings Panel you can find settings which could not fit into other categories.
You can control the volume of the ingame sounds, set how your singleplayer character behavior, configure some Room Editor adjustments, disable/ enable Tooltips and much more!
---
---
1. Volume:
---
Mute All Sounds: This mutes all gamesound.
Disable Surround: This disables the surround effect.
Global: This is the main volume.
Environment: Manages the environment sounds.
Sound Effects: Sets the sex sounds. (Not moaning)
Voice: Manages the voice volume for your character.
Music: Reduces or increases the volume of the
game music. (NOT YOUTUBE OR RADIO!)
Voice over IP: Adjusts the voice chat volume.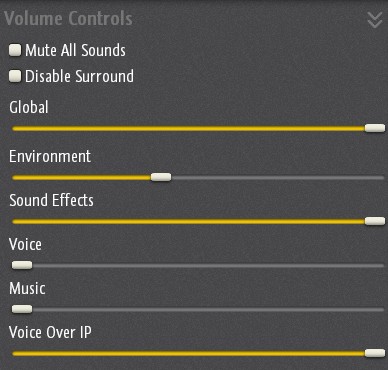 ---
2. Secondary Character: (Singleplayer Mode)
---
Automatically follow the main Character: Your second
character follows your activated character automatically.
Automatically join Poses: When activating a pose in Single
player Mode, the other character joins you automatically.

---
3. Location Editor Settings: (Room editor)
---
Automatically scale Maniplator

: Locks the
manipulators size regardless how far your
camera view is.

Manipulator Size

: Sets the size of the manipulators.
Manipulators are the adjusters in Room Editors that appear
on objects and allow you to control position, rotation
and size of objects. The numeric value of the affected parameter
can be found to the right of the rotation, scaling and translation
(global) sliders. Holding the "ALT" button while using a manipulator
(leftclicking) will snap the manipulator to the closer rounded
up value. The following "Manipulator Step" sliders
control how much this value gets rounded.
Tip: The next step "Show Tooltip" is useful to display
the numeric value of many parameters.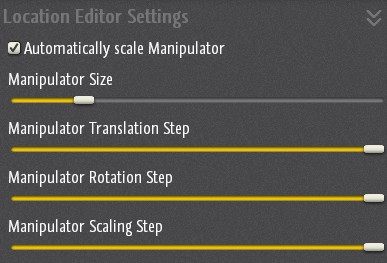 ---
---
Show Tooltip

: When activated, hovering on certain sliders
will display a small box with the numeric value of that parameter
in the middle upper screen. From here you can turn on/ off
this function.

Floating Chat Window

: Allows you to detach the Chat box.
You can also scale the chat once detached.

Floating Pose Panel

: Detaches the Pose Panel and
lets you move it around.

Quickbar Visible:

Opens a QuickBar
which allows you to add Poses, Dances, Gestures,
Facial Expressions and Moan to the list. By right clicking
on an icon of your choice, it will be added to the QuickBar.
A rightclick on the icon in the QuickBar will remove
the selected animations and moans from the bar.
You can activate your choice now with a simple click on the
Quickbar or you just use the numbers on your keyboard (1-0)


Automatically allow Loop changes

: Allows your partner to change
the pose loop without the need of your permission every time.

Automatically allow CumShot pose changes

: It allows your partner
to jump into cumshot pose without your permission every time.

Show Strapon Poses for Females

: Filters the pose list and shows
strapon poses for females too.

Show Passive-Anal-Poses for Males

: Shows anal poses for males.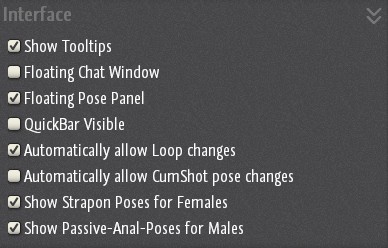 ---