The model you are customizing
Category of customization (see list below)
Controls for editing the current category
Toolbar (see details below)
Camera controls
Switch models by clicking on the greyed out one
Starting up the Model Editor
Start the Game and login

Click on "New Scene"

Click on "Customize" under SexMate or MySelf or "3SomeMate"
Toolbar
The customization categories have over 250 + sliders and controls to personalize your avatar character to make it unique.
There are options to dress, accessorize, shape the body and face and create a bio and personality for avatars.
These categories and individual controls also include presets for things like hair color, eyelash & eyebrow shapes, tattoos, skin color, tan lines etc.
The above tool bar example is a fully populated customization tool bar.
NOTE: If your toolbar is missing icons it means you have not collected all the options available to customize your models and characters.

If you see these empty slots you can obtain these options in the SexShop
Customization Categories
| | |
| --- | --- |
| | Outfits - Themed - Can be 'Mixed & Matched' and Saved |
| | Jewelry - Rings, necklaces, bracelets - Piercing Jewelry! |
| | Make-up - Lipstick, Eyeliner, Eye Shadow, Nails |
| | Body - Hairstyles, Eye color, Breast Size, Penis, Pubes, Skin Color, etc. |
| | Tattoos - Hundreds of combinations- Custom Ink Colors |
| | FaceMaker - Age, Race, Gender & FaceMate Photo Personalization |
| | FaceMaker Advanced - Face shape characteristics and detailed feature tuning |
| | Personality - Name, Horoscope, Occupation, Relationship Status, Voice |
NOTE: Voices profiles can be assigned to suit the personality of the female models = Nice, Naughty, and Nasty!
Languages available include: English, German, Spanish, French, & Italian.
Male voice packs do not have as an extensive vocabulary as the female voice packs.
Toolbar
| | |
| --- | --- |
| | Music Player |
| | Share your models on GameErotica |
| | Import Gamerotica model |
| | Start/Stop video recording |
| | Take a screenshot |
Tips and Tricks
Adjusting Hair Positioning
The Hair Style section in under Body customization allows you to tweak the hairstyles. You can adjust the position, rotation and scale of the model's hair.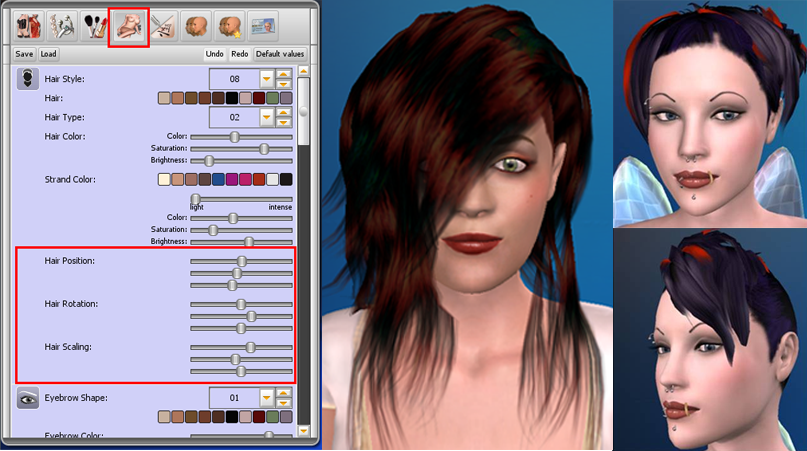 Tips and gotchas when adjusting hair
adjusting one hairstyle will adjust all the others as well. Choose your hairstyle first and then do your adjustments
you can use the "Default Values" button to reset the hair positioning back to default. Note that this can only be done under the Body tab options and will reset all the other values under the "Body" section as well.